Western Grebe (Aechmophorus occidentalis)
Number of accepted Western Grebe records for Louisiana = 14 as of June 2015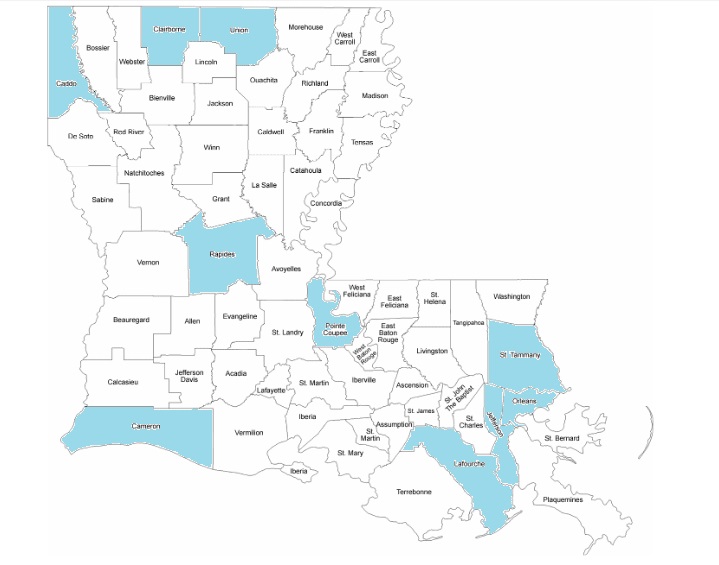 Accepted Records
One (1971-02; formerly 85-37) on the Mississippi River at New Orleans, Orleans/Jefferson Parish, from 3-6 November 1971 (DP,MM*). This bird was photographed, and a photo published in American Birds (Purrington 1972:74). This was the first record of any kind of "Western Grebe" for Louisiana and was accepted by Lowery (1974). The American Ornithologists' Union "Checklist Committee" recently (AOU 1985: 680-681) recognized as a species the very similar Clark's Grebe (A. clarkii), formerly regarded as merely a color phase of the Western Grebe. This change in nomenclature requires that the Committee will review all previous Louisiana records of "Western" Grebe to ascertain to which species they in fact refer. The Committee has accepted the original 1971 record as a true Western Grebe.

Two birds (1981-09; formerly 82-39) on the Gulf 2-3 miles west of Holly Beach, Cameron Parish on 25 January 1981 (JK*), with one bird still present from 14-22 February 1981 (VR; MR,BC.PO,DH).

One (1985-01; formerly 86-2) on 21 Dec. 1985, (SACBC) Cameron: Hwy. 27 at Mud Lake, N Holly Beach; Fred Barry, JPS (c), A&GS, JW, GO, CK, RN. This was apparently one of two different birds thought to be present, as reported in Newman (1986, p. 874, 1052). Muth (1986, p. 290) also reported two birds present until 11 Jan. 1986. Documentation for the other individual has never been submitted.

One (1986-05; formerly 87-3) on 20 Dec. 1986 SACBC, Cameron: Mud L.; John P. Sevenair, A&GS (Cardiff and Dittmann 1987, p. 561, 1033).

Two (1991-10) on 9 Feb. 1991, Cameron: Johnsons Bayou, Gulf of Mexico near Martin Beach Road; Curtis A. Marantz (ph), Donna L. Dittmann (drawing), and Steven W. Cardiff (AB 45(2):283).

One (1991-11; formerly 92-08) on 15 Dec. 1991, Cameron: Johnsons Bayou, Gulf of Mexico near Martin Beach Road; Cecil C. Kersting and Curtis C. Sorrells (AB 46(2):275; LOS 147).

One (1994-13) on 17 Dec 1994, Cameron: Gulf of Mexico, about 2 mi. SW of mouth Calcasieu Pass; Donna L. Dittmann and Steven W. Cardiff; NASFN 49(2): 156, LOS News 164: 4.

One (1997-38) on 19 Oct 1997, Lafourche: Fourchon Road; R. D. Purrington and B. Mac Myers III (ph); FN 52(1): 72.

One (2001-52) from 11-12 Nov 2001, Caddo: Shreveport, Cross Lake near Squirrel Point; Jeff Trahan (ph) and Malcolm Mark Swan (card). Reportedly first discovered by Charles E. Lyon; NAB56(1):61.

One (2003-19) on 20 and 21 Dec 2003, Cameron: 2 mi. E of Holly Beach; Paul E. Conover (ph), (i)B. Mac Myers III(/i); NAB58(2):240.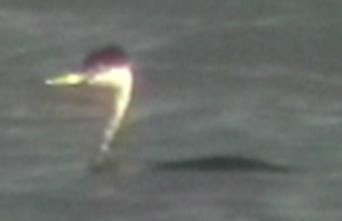 Photo by Paul Conover
One (2006-36) from 3-11 Nov 2006, Rapides: Kincaid Lake; John Pitre (ph) and Jay V. Huner. The bird was found dead and presumed shot by a hunter on 11 Nov (ph James Beck; specimen could not be retrieved); NAB61(1):85.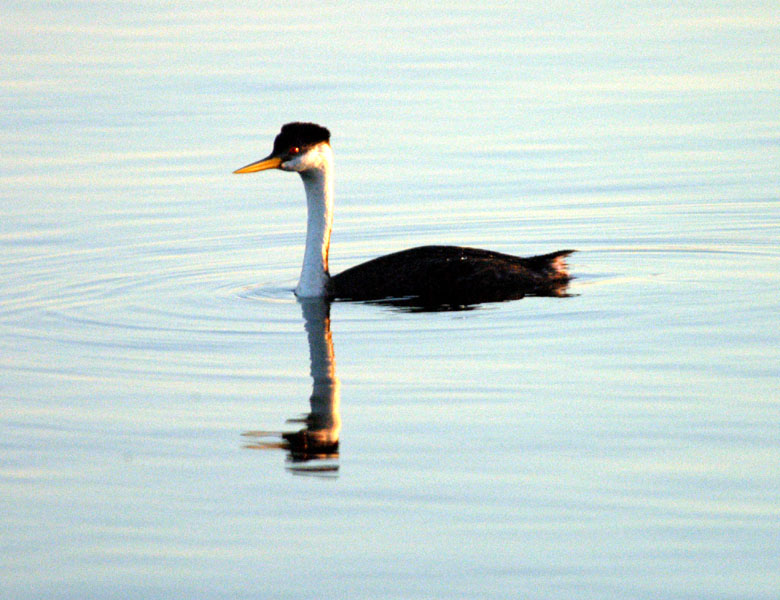 Photo by John Pitre
One (2010-02) on 22 January 2010, Cameron: gulf 1.3 mi. E of Constance Beach, 29.76174oN, 93.55959oW; Melvin Weber (ph).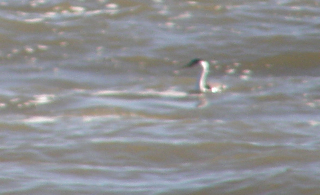 Photo by Melvin Weber
One adult (2010-17) on 12-14 April 2010, Claiborne: Lake Claiborne; Stephen Pagans (ph) John Dillon and Rosemary Seidler (card only).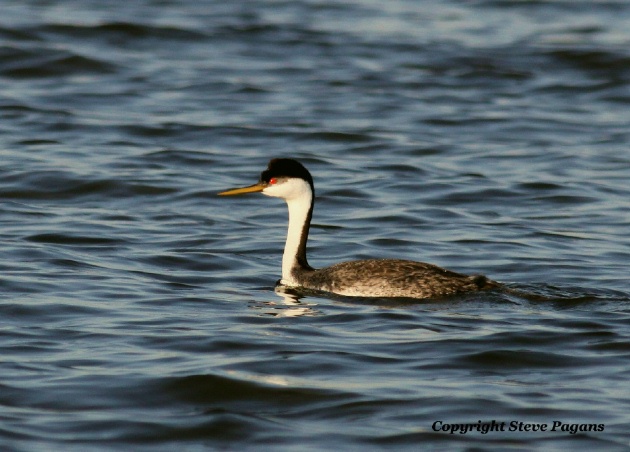 Photo by Stephen Pagans
Two (2013-002) from 26-27 January 2013, Caddo: Shreveport, E end Cross Lake; Stephen Pagans and Charles Lyon (ph).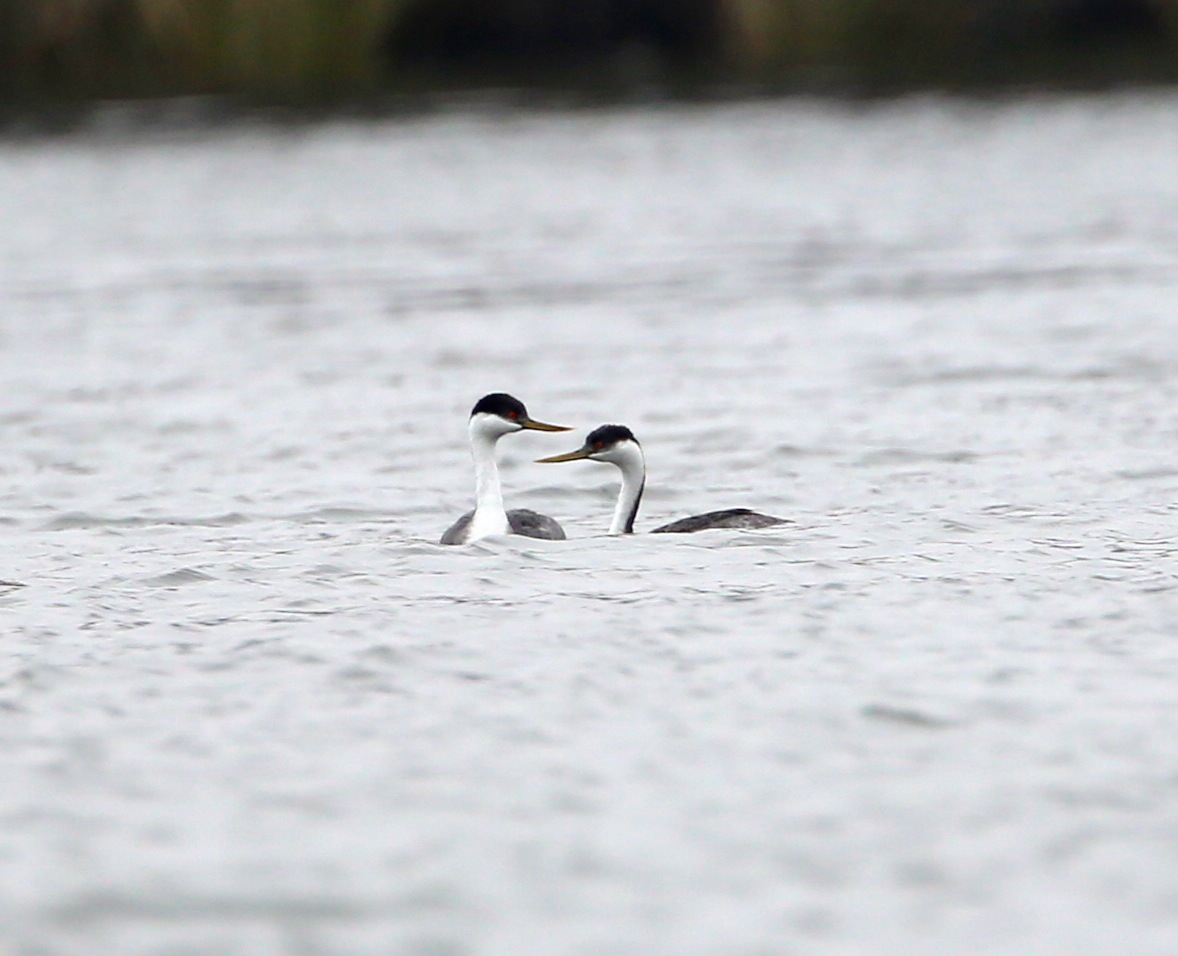 Photo by Charles Lyon
Unaccepted Records
One (1997-012) on 25 January 1995, Union: D'Arbonne NWR. The description did not provide enough detail to accept to species. However, some Members maintained that details submitted were good enough to document the genus Aechmophorus. So, this record continued through a Third Circulation before a majority of members agreed that the description was just too vague to support the observation as even a generic Western/Clark's Grebe.

Three (1995-150) on 23 Dec 1995, St. Bernard: 2 mi. NNE Arabi. The description did not eliminate Clark's Grebe. Additionally, some members expressed concern that the grebes may have not been Aechmophorus, but instead Podiceps, because only Horned Grebes were subsequently relocated at the site.