American Flamingo, Phoenicopterus ruber
Number of accepted American Flamingo records for Louisiana = 3 as of June 2017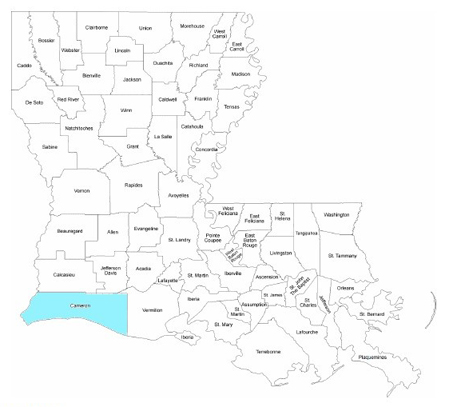 Accepted Records
One adult (2007-63) on 30 Sep 2007, Cameron: Calcasieu River, N. end St. John's Island near Cameron ( Cyndi Sellers, (ph). Brian DeBarge reported presence of two flamingoes to Sellers(article by Sellers appeared in Cameron Pilot newspaper 4 Oct 2007), these birds reportedly found earlier in September during teal season by Brandon DeBarge. Photographs confirmed that both birds were banded. The wild individual (band code "HDNT") was banded at the Ria Lagartos Reserve, Yucatan Peninsula, Mexico in summer 2005 (Rodrigo Migoya; email) and subsequently appeared in Texas in October 2005 following Hurricane Rita and was joined during January 2006 by an individual of the Old World subspecies P. r. roseus later determined to be an escapee (band code "492") from the Sedgwick County Zoo, Wichita, Kansas. Both birds have subsequently been observed back in Texas (fide Tom Stehn, USFWS; NAB62(1):91). This is the FIRST well-documented Louisiana occurrence of an individual of known wild origin. Although Greater Flamingo was on the official state list for many years, the species was eventually removed from the list by the LBRC due to a lack of substantiating evidence of historical occurrence in Louisiana (Schulenberg 1988).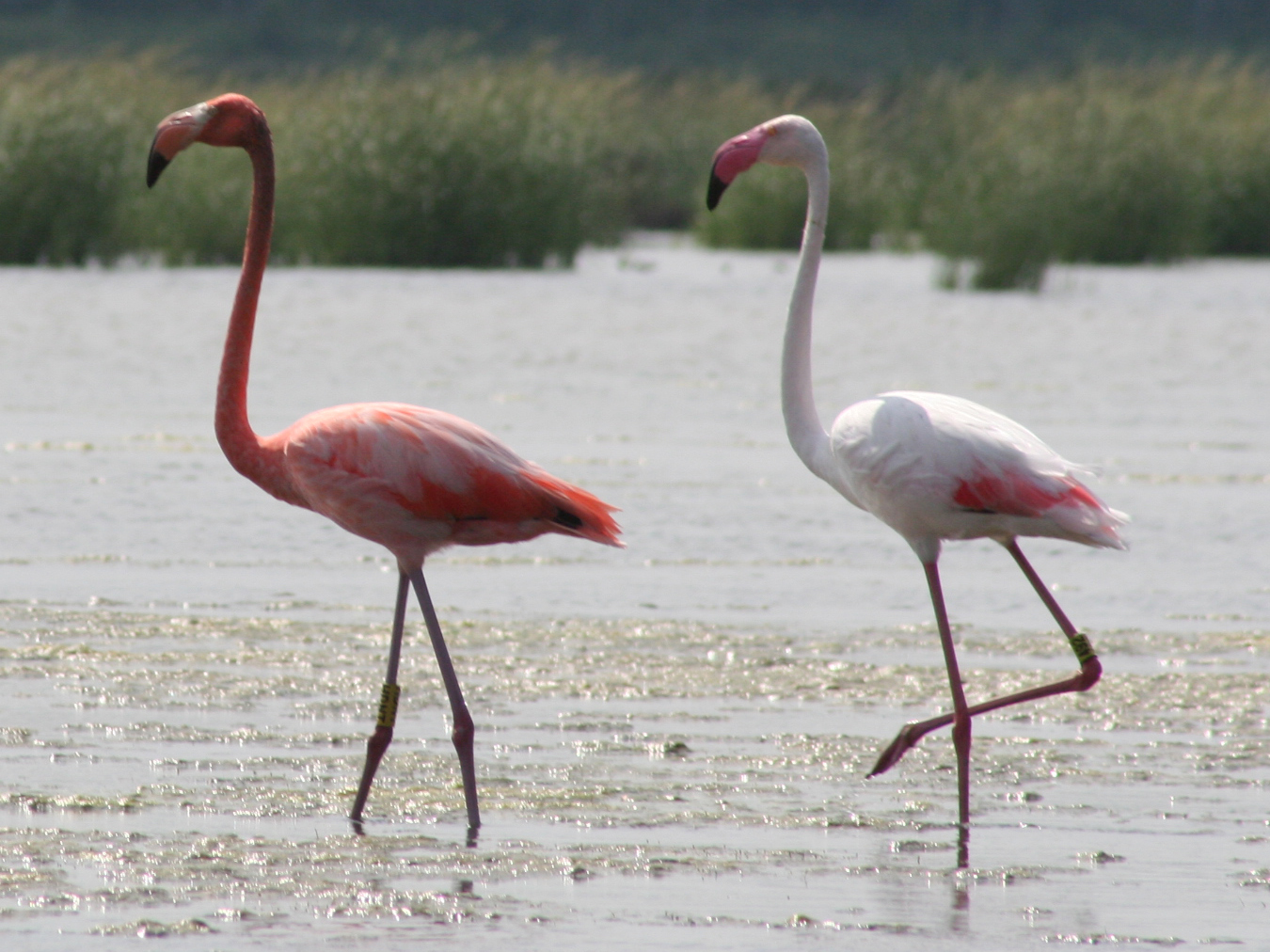 Photo by Cyndi Sellers (American Flamingo on left)

One adult (2009-35) on 2-11 May 2009, Cameron: Grand Chenier, 5.3 mi. E of Hwy. 82 bridge at the Mermentau River; Phillip A. Wallace (ph) , Devin Bosler (ph) , Paul E. Conover , Jay V. Huner , John P. Sevenair (ph), and Rosemary Seidler (ph). First reported on 1 May by Butch Conner fide Cyndi Sellers. Bird possibly present to 14 May, but no documentation submitted. This record involves the well known American Flamingo "HDNT," originally banded as a chick during summer 2005 at Ria Lagartos Biosphere Reserve on Mexico's Yucatan Peninsula and seen intermittently on the gulf coast (mainly Texas) since October 2005. During this visit, HDNT was still accompanied by an escapee Greater Flamingo (P. roseus) "492," as was the case during their first Louisiana visit in September-October 2007 (Dittmann and Cardiff 2010; J. La. Ornith 8:133-134: http://losbird.org/jlo_v8.pdf).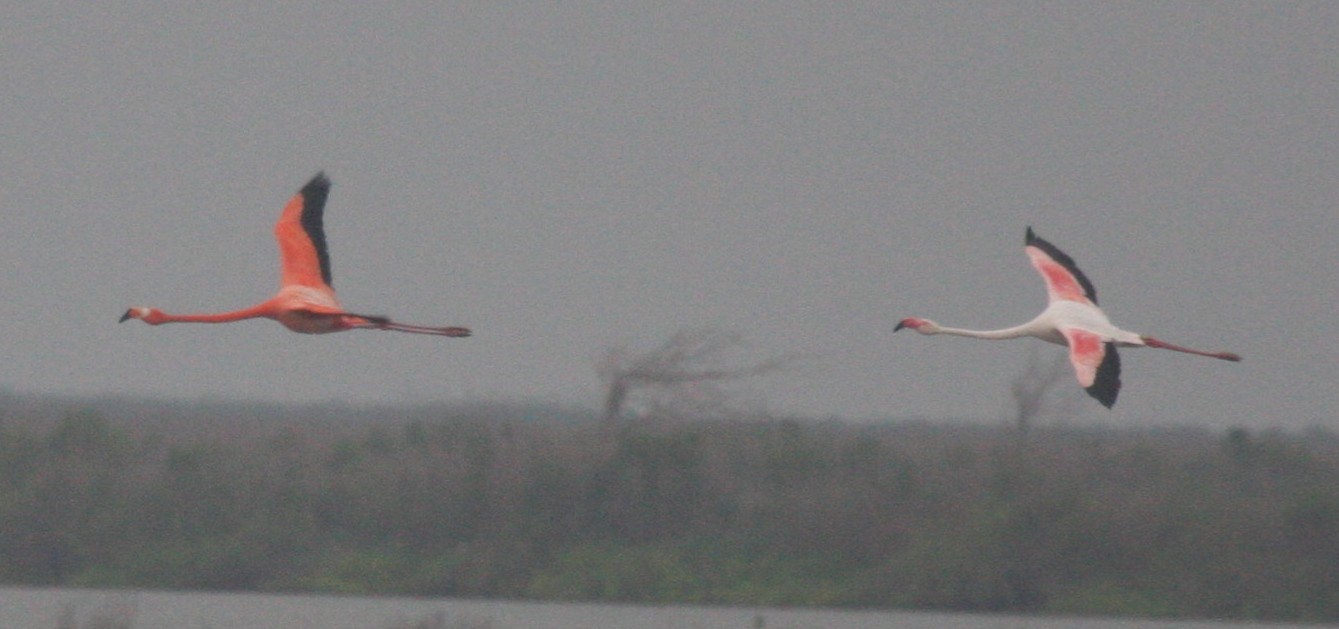 Photo by John Sevenair (American Flamingo on left)


One adult (2011-043) from 21 April – 31 May 2011, Cameron: Grand Chenier; Carrie Salyers (ph) and Brac Salyers, James Beck (ph), Paul E. Conover (ph), Justin Bosler (ph), Kevin Leigh (photos only), J. V. Huner, and Tom Finnie (photos only). This is the famous "HDNT" (previously LBRC 2007-63, 2009-35) returning for the third visit.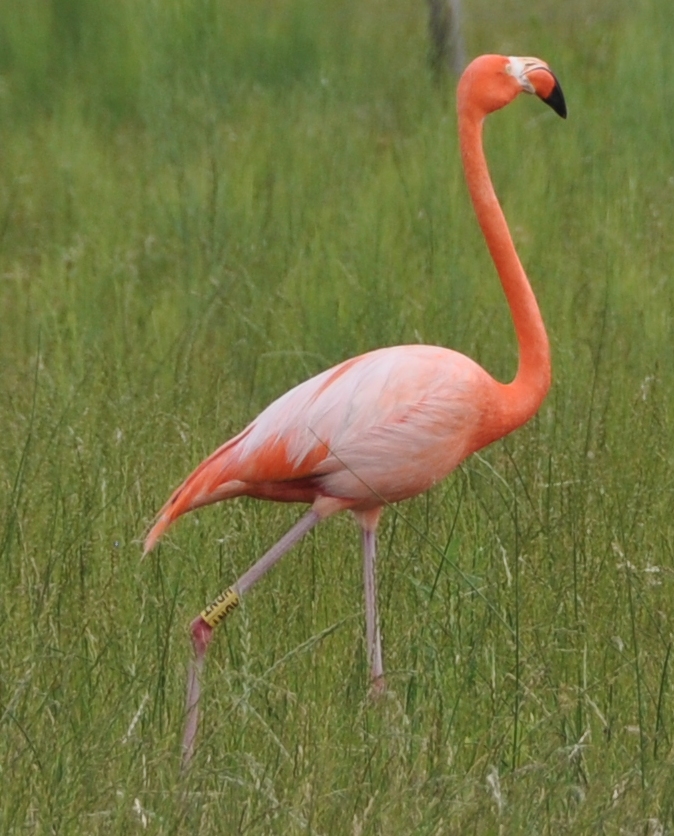 Photo by Carrie Salyers
Unaccepted Records
One adult male (2009-105) on 21 May 2009, Jefferson Davis: 2 mi. N of Jennings on Hwy. 26. Despite the date of this report from shortly after a wild American Flamingo was present to the south in Cameron Parish, some Members were not convinced that the report pertained to a flamingo. And, if the bird was a flamingo, then the description was still insufficient to identify this individual to species, which would be critical in eliminating the possibility of an escapee. One (2012-142) on 1 September 2012, St. John the Baptist: LaPlace, Oak Shadow Court, N 30.096664o, W 90.484139o. The description was not detailed enough to convince Members that the bird could be identified to species, or that the bird was indeed a flamingo.

One adult and one juvenile (2011-111) on 3, 12, and 19 October 2011, Plaquemines: Pass A Loutre WMA, ca 2.75 mi. SE Pilottown. This was a well-documented record supported by photographs of adult and juvenile – both individuals were unbanded. The record went to Discussion Round. Identification seemed straightforward, but Members were divided regarding provenance, with major differences of opinion on interpreting general patterns of vagrancy in flamingoes, records of individuals of known provenance, and movements of wild and feral birds in association with tropical weather systems. Only one known wild individual (banded "HDNT," originating from the Yucatan population photo right) has occurred in Louisiana (see 10th, 13th, and 15th Reports of the LBRC). A couple of other banded Yucatan birds have turned up in Cuba and Florida. However, provenance of free-flying Florida birds is clouded by known feral populations and the propensity of known feral/escaped flamingoes (of various species) to turn up in "good flamingo habitat," specifically note HDNT's companion (see photo previous page) was a known escape. With few confirmed records of known wild flamingoes, it is difficult to assess wild origin of "vagrants." Another aspect of this record was that it involved an adult with a juvenile (not just an immature), and some Members believed that this was more indicative of feral origin insomuch as one could argue that adults would be much less likely candidates for long distance vagrancy. Ultimately, three Members believed"questionable origin" was the most prudent course, and, although other Members accepted as "origin hypothetical," this vote resulted in the record becoming unacceptable based on questionable origin.

<![if !supportEmptyParas]><![endif]>