Tropical Parula (Setophaga pitiayumi)
Number of accepted Tropical Parula records for Louisiana = 7 as of July 2015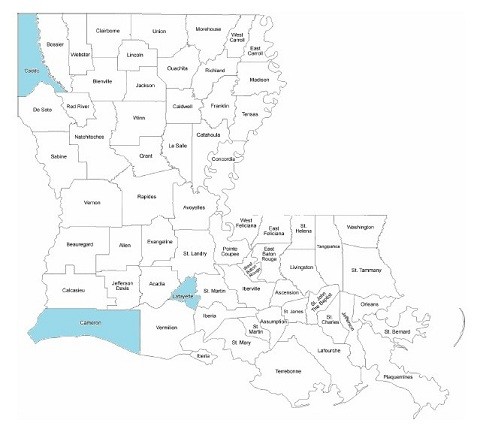 Accepted Records
The first state record and specimen of Tropical Parula (female; LSUMZ 113128, Schulenberg 1986) possesses the same mitochondrial DNA haplotype as two Northern Parulas (Parula americana) used in a genetic analysis of the genus Parula (Lovette and Bermingham 2001) suggesting mixed Northern X Tropical Parula parentage. Upon closer inspection, a second Louisiana specimen of Tropical Parula (LSUMZ 138250, a male never reviewed by the LBRC) shows some characters intermediate between the two species (Tony Gallucci, pers. com.), possibly suggesting that it, too, had a hybrid history. Further morphological and genetic analysis of this specimen, and of a suspected hybrid zone in southern Texas, is anticipated.
One immature female (1983-09; formerly 84-19) found at Holly Beach, Cameron Parish, on 17 December 1983 (Van Remsen; David Muth*) and collected the following day (LSUMZ 113128) after being seen by many observers. A surprising first Louisiana record, and the first U. S. record away from southern Texas.
One immature male (1988-60; formerly 89-60) on 22 Oct. 1988, Cameron: ca. 5 mi. E Cameron; Steven W. Cardiff (LSUMZ #138250), Donna L/ Dittmann (Muth 1989, p. 119).
One adult male (1989-01) on 18 Dec 1989, Cameron: Oak Grove, Rutherford Motel on Hwy. 82; Robby J. Bacon and Melvin Weber; AB44(4):1023.
One adult male (1992-04) from 10-28 Feb. 1992, Lafayette: Lafayette, 800 block of S. College Road, woods at Belle Rive Townhomes; Dave Patton, Roger J. Breedlove, Curtis A. Marantz, Alfred E. Smalley, and Paul E. Conover (ph) (AB 46(2):278; LOS 147).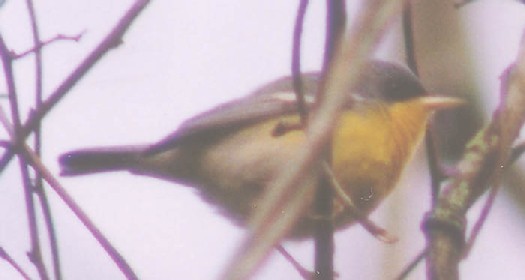 Photo by P. Conover
One male (1999-77) from 27 Nov-19 Dec 1999, Caddo: Shreveport, Cross Lake, 2414 Lakecrest Drive; Chuck and Sally Moffett, Charles E. Lyon, Terry Davis, Karen Fay, and M. Mark Swan (ph taken 27 Nov); NAB 54(2): 189.
One (2001-55) on 22 Dec 2001, Cameron: Johnsons Bayou, 100 yards W of Peveto Beach Woods, 3 mi. E of Johnsons Bayou School; Malcolm Mark Swan (ph); NAB56(2):185. These two records were accepted; however the LBRC will re-review accepted records of this species because of occurrence of apparent Tropical X Northern parula hybrids, including a previously accepted Louisiana specimen record. Observers who encounter this species should make every attempt to obtain good photographs so that genetic "purity" can be better evaluated.
One (2007-089) on 27 December 2007-1 January 2008, Lafayette: ca 3.2 km N Milton; Erik I Johnson (ph) and Dave Patton (ph only).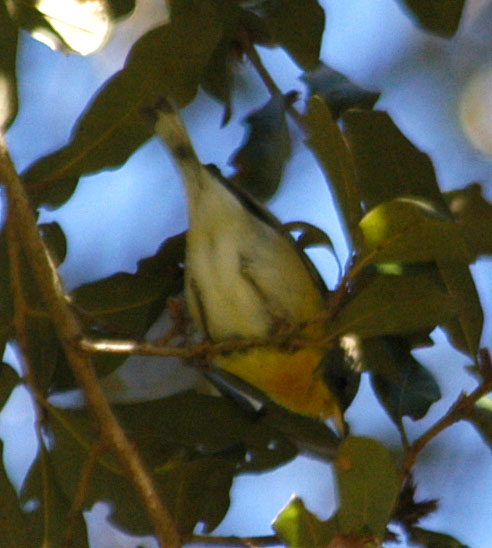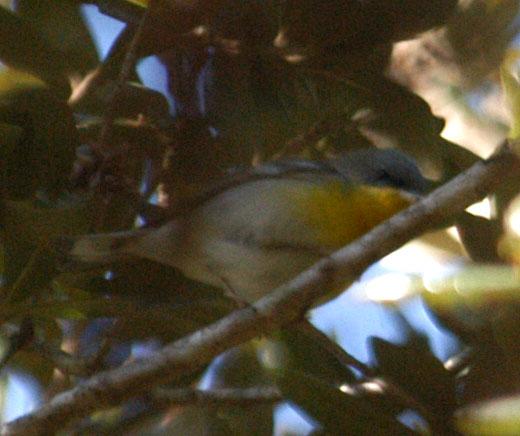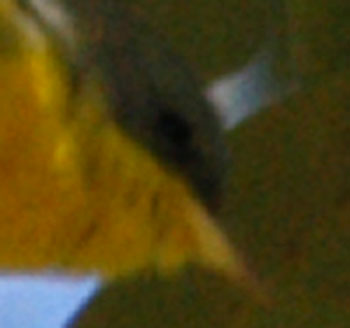 Photo by Erik Johnson
Unaccepted Records
One (1996-13) on 13 January 1996, Vermilion: Hwy. 700, approximately ˝ mi. W of Hwy. 35. The presence of pale eye arcs and a light-colored cheek indicates that this individual may be best treated as a hybrid Northern Parula X Tropical Parula.

One presumed first-year male (2011-109) on 10 November 2011, Cameron: Hackberry Ridge, 2 mi. WSW of Johnsons Bayou School. This individual was thought to be an immature male based on green crown and orange wash across the breast. Scrutiny of the excellent series of photographs revealed several characters inconsistent with a pure immature male Tropical Parula, including white that formed "lower" eye arcs, pale lores, and no black or dusky in the face, as well as a pale arc of yellow under the cheek. All these characters may better support identification as a Tropical X Northern parula hybrid.

One male (2013-093) on 26 December 2013 and 1 January 2014, Cameron: Peveto Woods Sanctuary. This bird, which otherwise was consistent with a male Tropical Parula, showed some white on the eye lids that was suggestive of hybridization with Northern Parula. Because it could be argued that the bird was not 100% Tropical Parula, a majority of Members thought it best to not accept the report. It should be pointed out that had photos not been obtained or had the photos not showed such detail, then this bird could well have been accepted as a Tropical Parula. Because of this, the LBRC wants to stress that any suspected Tropical Parula needs to be extensively photographed in order to exclude hybrids/intergrades.