Sabine's Gull (Xema sabini)
Number of accepted Sabine's Gull records for Louisiana = 8 as of October 2017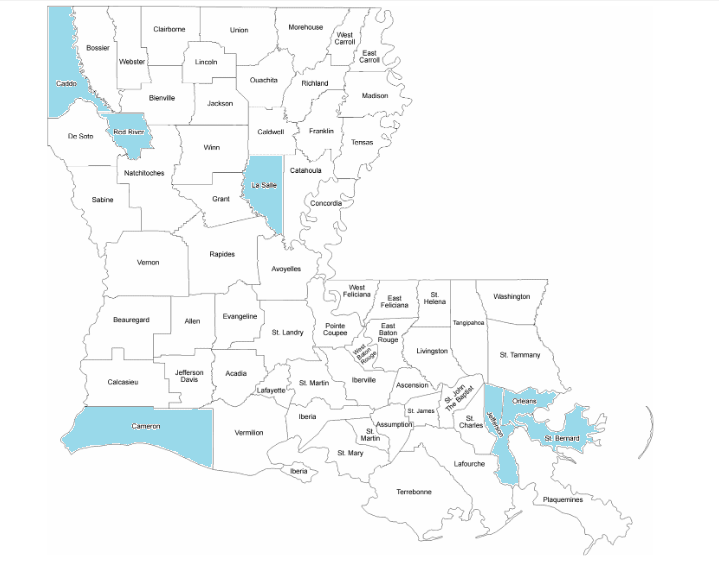 Accepted Records
An immature (1976-2; formerly 81-29) at Barataria Pass, Grand Isle, Jefferson Parish on 11 September 1976 (RS,RH) was a first record for Louisiana.

From the Ninth Report of the Louisiana Bird Records Committee: Since publication of the Eighth Report of the LBRC (Dittmann et al. 1998) the LBRC has modified its Bylaws in three significant ways. First, the Committee has adopted a "hard evidence" policy for addition of a species to the State List. This policy mandates that a species cannot be added to the official State List without supporting documentation in the form of diagnostic photograph/videotape, audio recording, or specimen. Although the hard evidence policy retroactively pertains to all records reviewed by the LBRC since its formation, there are immediate ramifications for only four species (that were previously added to the state list on the basis of sight records): Red-throated Loon (record No. 92-05), Greater Shearwater (record No. 85-17), Curlew Sandpiper (record No. 76-5), and Sabine's Gull (record No. 76-2). In accordance with the new policy, these records cannot represent the official first state record. Therefore, the species is either removed from the main state list (Red-throated Loon) or a subsequent hard evidence record becomes the official first state record. The earliest acceptable hard evidence records of Greater Shearwater (record No. 00-10) and Sabine's Gull (record No. 79-15) are contained in this report.

Also: Previously accepted sight records (Acceptable, but no hard evidence documentation for the species in Louisiana) [Records previously accepted by the LBRC, but no longer considered to represent the first state record following adoption of the mandatory "hard evidence" policy.]

Thus:One immature (1976-2) on 11 Sep 1976, Jefferson: Grand Isle, Barataria Pass near the Coast Guard Station; Ronald J. Stein and Robert Hines; (published as record No. 81-29 in Schulenberg 1984). As with the preceding records, the lack of hard evidence precludes this record from representing the first state record; record No. 1979-15 becomes the official first state occurrence.

One (1979-15) in first alternate plumage on 2 Jun 1979, St. Bernard: Breton NWR, Chandeleur Islands, Curlew Island; Lawrence O'Meallie (ph). Shortly after the observation, the observer submitted the photograph to LSUMNS for identification. The bird was erroneously identified as a Bonaparte's Gull and the slides were filed. The photographs were eventually reevaluated and submitted to the Committee (by Dittmann) as a Sabine's Gull. This becomes the first state record supported by hard documentation.

One in first alternate plumage (1992-32) on 2 May 1992, Cameron: East Jetty at mouth of Calcasieu Pass; Curtis A. Marantz (ph), Curtis C. Sorrells, and Phillip A. Wallace (AB46 (3):436). This is the second accepted record for Louisiana.

One (95-97) in juvenal plumage on 4 Oct 1995, Orleans: New Orleans, Lake Pontchartrain at Southshore Harbor, Peter H. Yaukey; NASFN 50(1): 68, LOS News 168: 5. The observation coincided with the passage of Hurricane Opal through the region.

Two (98-77) in juvenal plumage on 16-18 Sep 1998, Red River: Red River Lock and Dam #4; Paul M. Dickson (ph) and Karen Fay; NAB 53(1): 63-64.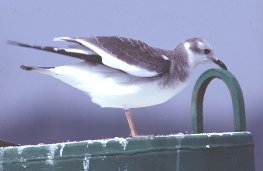 &nbsp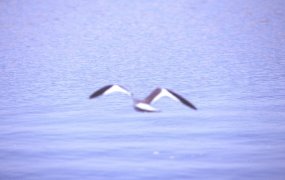 Photos by Paul Dickson
One (01-28) in juvenal plumage on 9 Sep 2001, Caddo: Shreveport, Cross Lake; Charles E. Lyon (ph by Charles E. Lyon provided by M. Mark Swan); NAB 56(1): 62 (includes ph).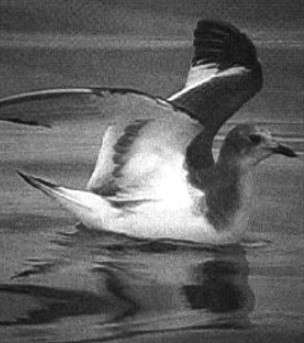 Photo by Charles E. Lyon
One female in 1st alternate plumage (2004-21) on 20 May 2004, Gulf of Mexico: 12 mi. SSE of mouth South Pass of Mississippi River, 28o49'47.2"N, 89o04'06.1"W; Steven W. Cardiff (LSUMZ 177142) and Donna L. Dittmann (*); NAB58(3):385. This is about the eighth accepted state record and the first specimen.
One in juvenal plumage (2007-64) on 21 October 2007, Caddo: Cross Lake; Charles Lyon.
Unaccepted Records
One adult in breeding plumage (1999-095) on 4 September 1999, Gulf of Mexico: ca 110 mi. SW Morgan City, South Marsh Island 147 oil platform. At the time of this observation, there were only seven accepted occurrences and no accepted records of adults. The observation was brief and relatively distant, and the description is relatively brief. Although this species/plumage might be considered "unmistakable," given the circumstances and the lack of hard evidence for such an outstanding occurrence, following a Discussion vote all but one Member opted not to accept.