Red-necked Grebe (Podiceps grisegena)
Number of accepted Red-necked Grebe records for Louisiana = 5 as of June 2017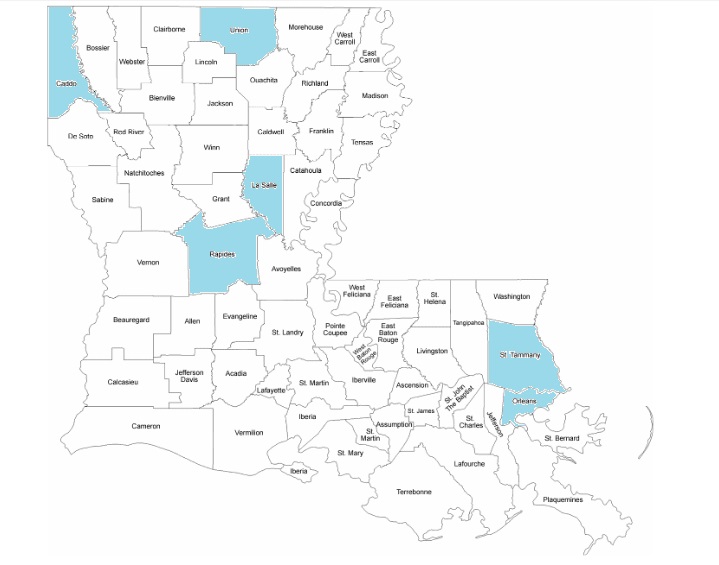 Accepted Records
One in basic plumage (1937-01) on 2 December 1937, LaSalle: Catahoula Lake; Winston Nolan (LSUMZ 73005, mount).

One (1995-42) mostly in basic plumage on 11 Mar 1995, St. Tammany: Mandeville, N. shore of Lake Pontchartrain, E of causeway (in front of "RIP'S" restaurant); Steven W. Cardiff and Donna L. Dittmann; NASFN 49(3): 261, LOS News 165: 6. This is the second accepted record for Louisiana.

Two, one adult and one immature (2003-08), on 19 Jan 2003, Caddo: Shreveport, Cross Lake; Charles E. Lyon (ph); NAB57(2):212. This is the third state record.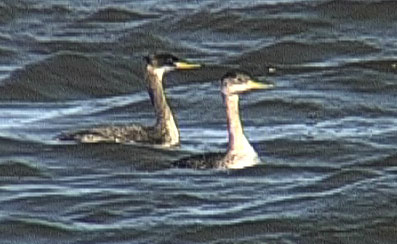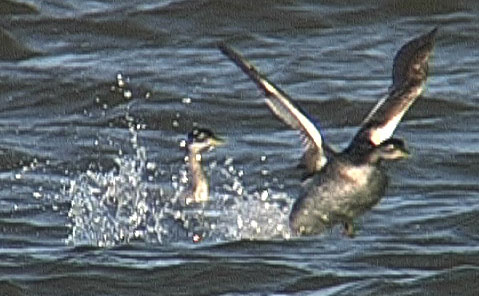 Photos by Charles Lyon
One (probably 1st basic, 2004-13) on 6 March 2004, Orleans: New Orleans, Lake Pontchartrain, just offshore Haynes Blvd. levee, between Little Woods and Lincoln Beach, David P. Muth.
One (2014-036) on 2-22 November 2014, Union: Lake D'Arbonne, N of Hwy. 33; Stephen L. Pagans (11/2)(ph) and (11/9)(ph), Willie Matthews (ph), John Dillon (ph), and Mary Mehaffey (ph).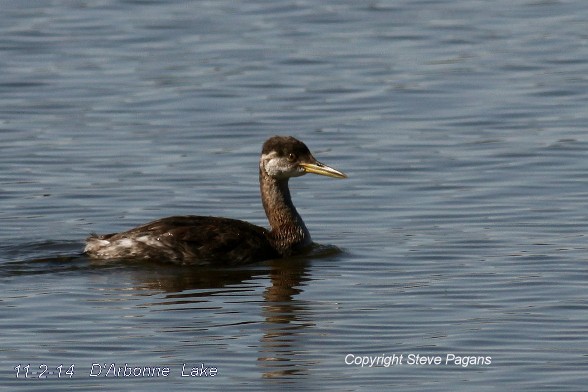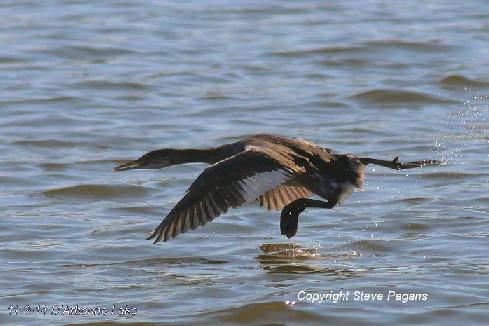 Photos by Stephen Pagans
Unaccepted Records
One in basic plumage (89-24) on 20 Dec. 1975 (SACBC), Cameron: East Jetty. The slide included with this record and labeled by one of the observers is clearly that of an Eared Grebe. The record was accepted on the CBC list (Newman 1976, p. 174, 478); it should be removed from the CBC list.

One in basic plumage (84-40) on 17 Dec. 1977 (SACBC), Cameron: Mud Lake (Hamilton & Newman 1978, p. 436, 739). This record was only recently submitted to the LRBC. It was written from memory, seven years after the observation. The original documentation provided to the CBC compiler was lost and the observer did not retain any original notes. Most Members were opposed to the acceptance of such an outstanding record without original supporting documentation, although all agreed that the description did indicate this species. This is an excellent example of the necessity of keeping original documentation and field notes.

One (or two?) (89-27) on 18 Dec. 1977, Cameron: West Jetty. The only available details for this record were written on an American Birds 3 x 5 card. The description was insufficient to document such an outstanding record.

Ten, nine immatures and one adult (2005-024), on 26 September 2005, Caddo and Bossier parishes: Red River. The description was considered marginal and, regardless, without photographic evidence, Members were unwilling to accept a report from such an early fall date and involving an unprecedented number of individuals.

One in worn breeding plumage (2014-024) on 2 February 2014, St. Tammany: Lacombe, canal on W. side of Lake Rd. The bird was quite possibly correctly identified because the description was suggestive and the observers reported that they were familiar with this species. However, at the time of the observation, the observers were not aware of the species' rarity on the Gulf Coast (e.g., this would represent the fifth Louisiana occurrence). Other concerns were that the description was written a year after the observation (and apparently only completed after their eBird entry was challenged), and that the bird was reportedly still in "worn breeding plumage" in February. Ultimately, a majority of Members believed that non-acceptance was warranted.

One (2015-057) on 29 November 2015, Pointe Coupee: Morganza Forebay at floodgate pullout. A potential sixth state occurrence seen briefly at a distance and only in flight, most Members were hesitant to accept given the circumstances and the lack of supporting hard evidence.