Northern Wheatear (Oenanthe oenanthe)
Number of LBRC accepted Northern Wheatear records for Louisiana = 5 as of July 2015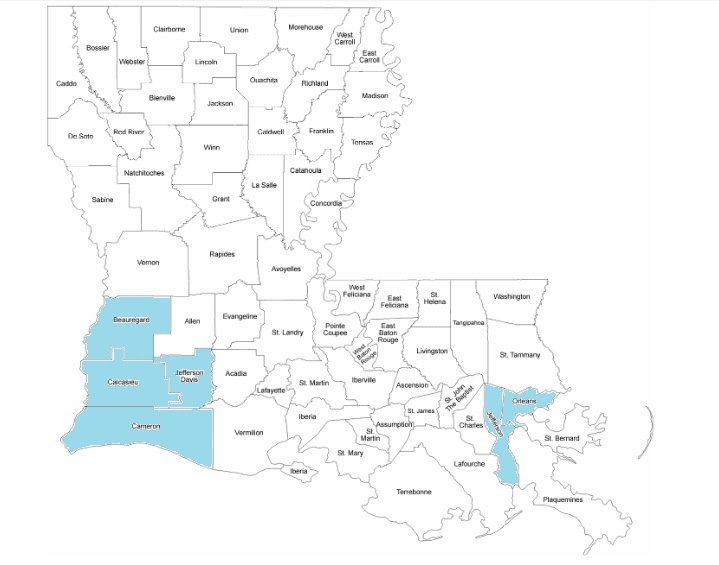 Accepted Records
One immature (1991-32) from 23 Oct.-1 Nov. 1991, Orleans: New Orleans East, Folgerís Coffee Plant on Gentilly Road; David P. Muth (ph), Christopher G. Brantley, John P. Sevenair, Alfred E. and Gwen B. Smalley (ph), Curtis A. Marantz (ph), Kenneth V. Rosenberg (ph), and R. D. Purrington (ph) (found by Jennifer Coulson) (AB 46 (1):106,167, includes ph by Smalley on pg. 167; LOS 145).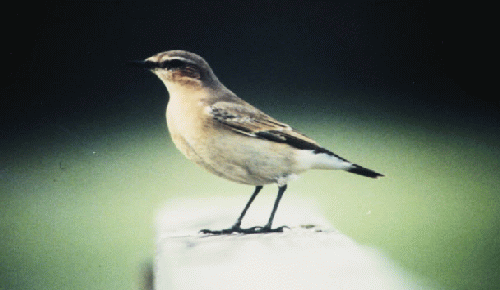 Photo by Dan Purrington
One in fresh basic female-type plumage (1992-12; formerly 93-17) from 17 Dec. 1992-27 Feb. 1993, Acadia: approx. 2.5 mi. S of the S edge of Crowley, 1 mi. W of Hwy. 13; Donna L. Dittmann and Steven W. Cardiff (ph), William R. Fontenot, Paul M. McKenzie, Gwen B. and Alfred E. Smalley, Bill Wood, John P. Sevenair, Curtis A. Marantz, Jonathan L. Dunn, and Paul E. Conover (ph only)(end date of "27 Feb." from AB47(2):268; LOS151.)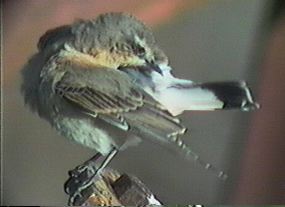 Photo and video by P. Conover
One (1995-109) from 11-14 Oct. 1995, Calcasieu: Ellis Moss Rd., l.7 mi. W from Hwy. 27; Jeanne F. Sachs, Matt Pontiff (ph) and Joseph P. Kleiman (ph) (FN 50(1):68; LOS 169). There is only one previous record from Louisiana (12 Sep, 1888; Lowery 1974). A 1995 record from Shreveport is pending.
One male (1997-31) in first basic plumage on 10-11 Oct 1997, Cameron: ca 2 mi. W of Johnsons Bayou School; Daniel F. Lane (LSUMZ 164680) and Christopher C. Witt (ph only taken 11 Oct); FN 52(1): 75.
One (2001-33) on 14 Oct 2001, Jefferson: Hwy. 1 between Fourchon Road and Pass Caminada, near Grand Isle (in the "Whimbrel Yard"); B. Mac Myers III (ph) and David P. Muth (ph); NAB56(1):63. This is the seventh state record.