Harris's Hawk (Parabuteo unicinctus)
Number of accepted Harris's Hawk records for Louisiana = 5 as of October 2017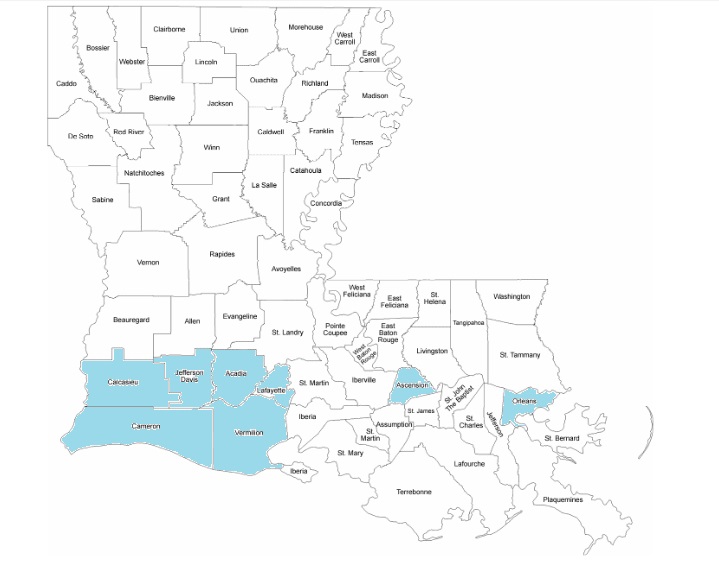 Accepted Records
One adult (1994-40) from late Oct. 1994-19 Mar. 1995 Vermilion: Hwy. 35 about 1.5 mi. S of Hwy. 699; Paul and Darnelle Mcintosh, Dave Patton (ph), Steven W. Cardiff (ph), Donna L. Dittmann, John P. Sevenair, Phillip A. Wallace (ph), and Paul E. Conover (ph only)(FN 49(2):156, FN 49(3):262; FN 49(4):661-662, 866; LOS 162; LOS 164; LOS 166). Other sightings up to two miles away from the above locality during the same period are presumed to pertain to the same individual.

This record coincides with a major invasion as far north as the Great Plains and Southern California during fall 1994 (FN 49(1):11; 49; 65; 69; 82; 100) and winter 1994-95 (FN 49(2):119; 153; 155-159; 163; 166; 173; 178; 196-197; FN 49(3):270; 288; 309). Because of these records it is more likely that this bird was part of that flight, rather than a falconer's escape. Two previous records were not accepted based on questionable origin. These records may pertain to wild birds. Lowery (1974) included the species on the State List; re-evaluation by the LBRC resulted in the species being deleted. This record represents the first state record and restores the species to the State List.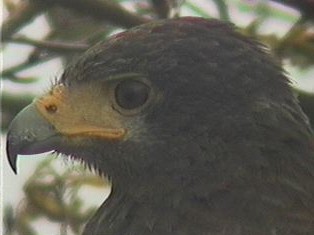 Photo and video by Paul Conover
One in adult plumage (1995-14) on 2 Jan 1995, Lafayette: 1 mi. S of Hwy. 90 on Hwy. 719, between Duson and Rayne; Steven W. Cardiff and Donna L. Dittmann; NASFN49(2):156. The observation coincided with a northward irruption during fall-winter of 1994-1995.
One in adult plumage (2006-45) from 3-18 Dec 2006, Calcasieu: S of Holmwood along Lionel Derouen Road, and E of Holmwood near intersection of Hwy. 14 and Fruge Road; Donna L. Dittmann (ph) and Steven W. Cardiff, James Beck (ph), James Reiter, and Paul E. Conover (ph only); first reported by Gay M. Gomez; NAB61(2):280.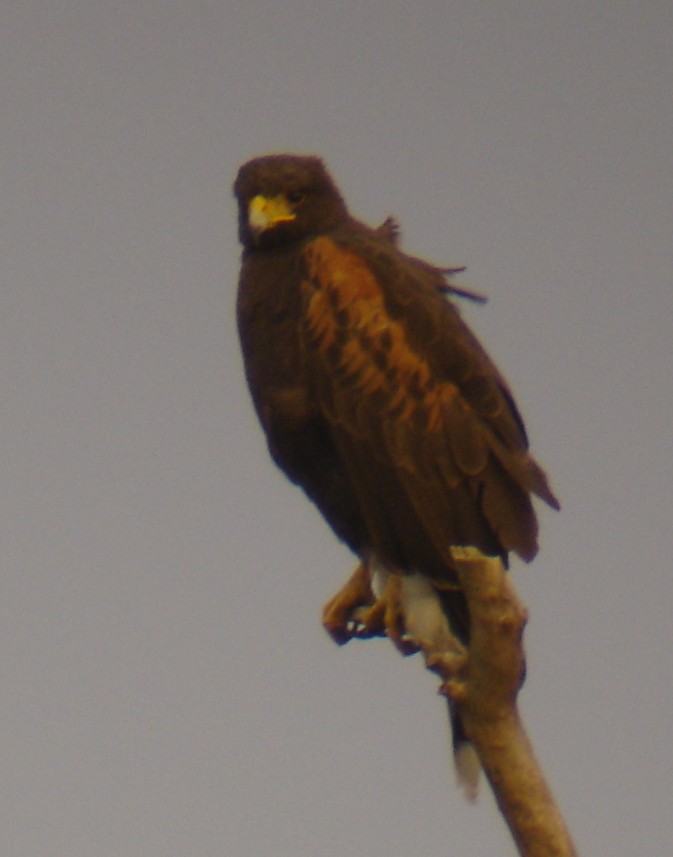 Photo and video by Paul Conover
One adult (2007-018) on 1 January 2007, Orleans: Recovery 1 at railroad tracks; Phillip A. Wallace (ph). A majority of Members accepted as Origin-Hypothetical. Although there are several accepted wild occurrences from SW Louisiana, it is a species commonly kept by falconers and thus the origin of this individual east of the previously accepted records is problematic.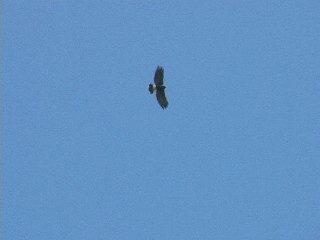 Video still by Phillip Wallace
One adult (2009-71) from 2 November 2009-6 February 2010, Acadia: vicinity of 1 mi. E of Rayne on Hwy. 90; Dave Patton (ph), Tom Finnie (ph), Rosemary Seidler (ph), Devin Bosler (ph), Donna L. Dittmann (ph only), Paul E. Conover (ph); found by Bill Hoffpauir fide Dave Patton.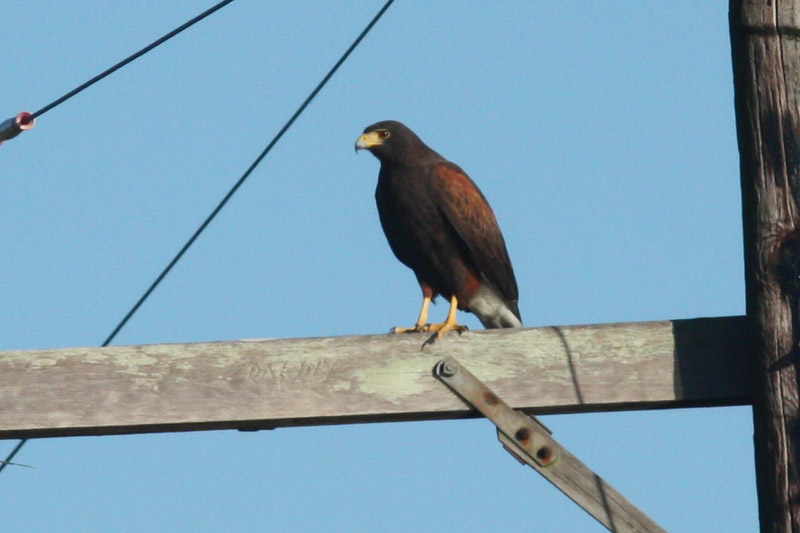 Photo by Dave Patton
Unaccepted Records
One adult (1988-43; formerly 89-17) on 4 Dec. 1988, Cameron: HMBS (Muth 1989, p. 325). Members felt that this bird was correctly identified, despite the rather brief written description and account of the observation submitted by only one of the two observers. All but one Member felt that the bird was more likely a released/escaped individual rather than a natural vagrant because it was an adult and fairly tame. Additional information regarding intentional releases by at least one Louisiana falconer (letter from Richard Martin, Louisiana Natural Heritage Program, Louisiana Dept. of Wildlife and Fisheries) in the vicinity of "Lake Charles" further increases the possibility that this was not a natural vagrant, despite the fact that the species occasionally occurs on the central and upper Texas coast.

One adult (1992-08; formerly 93-01) on 10-11 Dec. 1992, Calcasieu: Edgerly, intersection of Hwy. 90 and Hwy. 388 (AB47(2):267). This bird actually flew towards the observer and was relatively tame. The bird's plumage was reported to be in good condition, but its right foot appeared injured or paralyzed. There were no accepted records of this species at the time of review. Rumors persist regarding intentional releases of Harris's Hawks in the Lake Charles area during this period as an attempt by falconers to establish a breeding population. The status of Harris's Hawk will remain problematical, because they are commonly used by falconers and are subject to accidental release. Each record will be considered on its own merits until a pattern of vagrancy is demonstrated outside the one irruption year (see Harris's Hawk account in Accepted Records section).

One (1994-130) on 23 Jan 1994, Calcasieu: Hwy. 27, 2.5 mi. S of intersection with Hwy. 14 at Holmwood. This record received a 2-5 final vote, with four members voting not to accept based on origin, and one based on questionable identification - this vote resulted non-acceptance based on questionable origin. Also of concern was that no hard evidence was obtained for this potential first state record. Unlike winter 1994-95, when this species was reported throughout the SW and south-central US (including two accepted Louisiana records, NASFN49(2):156, Dittmann et al. 1998, and see LBRC record no. 1995-14 above), during winter 1993-1994 there was only a slight irruption restricted to along the Upper Texas Coast (NASFN48(2):225).