Curlew Sandpiper (Calidris ferruginea)
Number of accepted Curlew Sandpiper records for Louisiana = 7 as of October 2017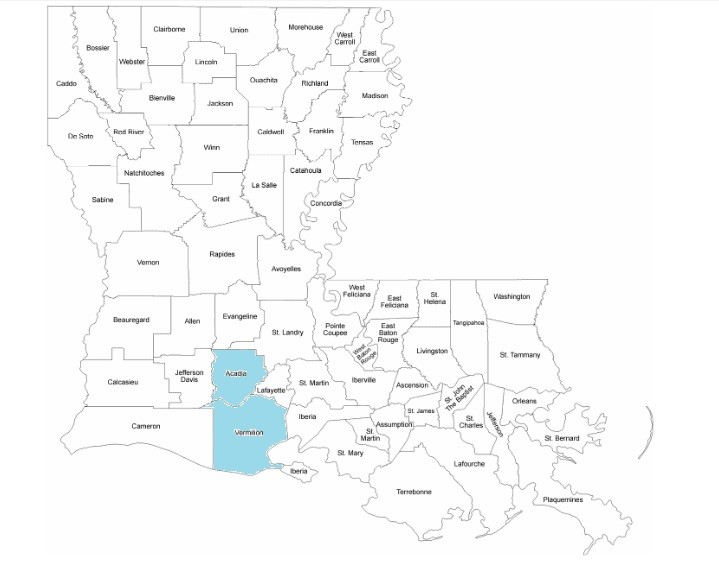 Accepted Records
One juvenile (1976-05; formerly 84R-5 and 1984-5) 2.5 miles north of Holly Beach, Cameron Parish, on 4 September 1976 (TS; CC, BK*, RI, BN). This is also only the second Louisiana record for this species, not seen in the state since the original report near Cameron on 13 September 1953. (From the 4th Report of the LBRC; However, see:) One juvenile (76-5) on 4 Sep 1976, Cameron: Second Bayou Field, ca 2.5 mi. N of Holly Beach; T. Schulenberg; AB 31(2): 188 (published as "second state record" and originally No. 84-5 in Schulenberg 1986). Neither this nor the first state record is supported by hard documentation. The first record, one in basic plumage, Cameron: 2 mi. E Cameron, 13 Sep 1953 (Lowery 1974) was retained on the State List following a review of species accepted in Lowery's Louisiana Birds (Schulenberg 1985). "First record status" is now transferred to record No. 90-38 (photographed 4-5 May 1990 in Vermilion, K. V. Rosenberg et al.; AB 44(3): 441, Dittmann 1995).
One (female or first year bird) in alternate plumage (1990-38) on 4-5 May 1990, Vermilion: Vincent Refuge, approximately 4 mi. north of Kaplan on Hwy. 35 (AB 44(3)441); (on 4 May) Kenneth V. Rosenberg (ph); (on 5 May) Curtis Marantz, Donna L. Dittmann & Steven W. Cardiff, JVR, DPM, RDP, MMS, JPK, DPa, HDP.
First state record
One in nearly complete alternate plumage (1991-26) from 13-14 May 1991, Vermilion: S of Vincent Refuge, S and W of intersection of Hwys. 699 and 35; Charles A. Butterworth, William R. Fontenot (ph), and Paul E. Conover (ph) (AB 45(3):457; LOS141).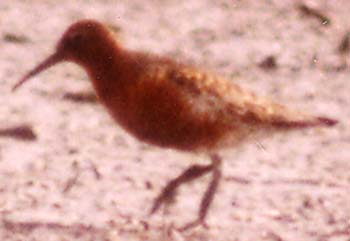 photo by P. Conover
One in alternate plumage (1997-20) on 6 May 1997, Vermilion: Hwy. 699 near Hwy. 343; an individual nearby (Gladu Rd. and Hwy. 343) on 12 May 1997 was most likely the same bird based on plumage characteristics; Gary Broussard (ph)(FN 51(4):882).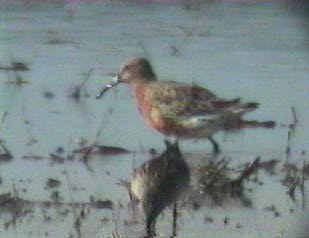 photo by Gary Broussard
One (1997-35) molting from alternate to basic plumage on 17 Aug 1997, Vermilion: S. side of Hwy. 14, 0.3-0.5 mi. W of [junction with] Hwy. 709, between Kaplan and Gueydan; Phillip Wallace (ph) and B. Mac Myers III (ph); FN 52(1): 73.
One in alternate plumage (2002-11) from 28 Apr-3 May 2002, Acadia: ca 4 mi. E of Morse, vicinity intersection Hwy. 92 and Homer Adams Road, 30.13o N, 92.48 o E; Christopher C. Witt, Daniel F. Lane (sketch only), Dave Patton (ph), and Joseph P. Kleiman; NAB56(3):316.
One in alternate plumage (2002-24) from 6-11 May 2002, Vermilion: N of Gladu Rd. just E of Hwy. 35; Joseph P. Kleiman and Paul Conover(ph); NAB56(3):316.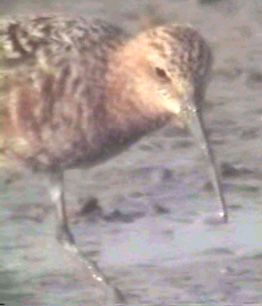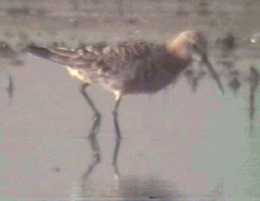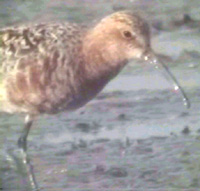 photos by Paul Conover
One in alternate plumage (2005-06) on 8 May 2005, Acadia: Toups Road, approximately 1 mi. W of Hwy. 35; Paul Conover &nbsp(ph) ; NAB59(3):448.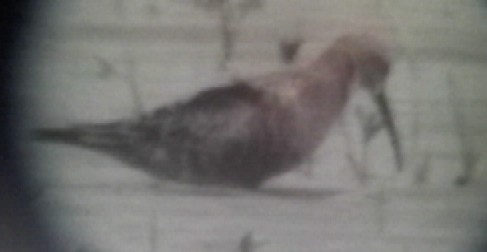 Video still and video by Paul Conover
Unaccepted Records
One in non-breeding plumage (1994-070) on 5 April 1994, Cameron: Hackberry Ridge, 2 mi. WSW Johnsons Bayou School. Most Members believed that the description did not support the identification. Although the observer noted some differences between this and similar species, diagnostic features (e.g., rump) were not confirmed, nor were any photos obtained.

One in basic plumage (97-83) on 26 Oct 1997, Cameron: Hackberry Ridge [2 mi. WSW of Johnsons Bayou School]. The description was very brief, and the observers did not see rump pattern. At least one observer expressed concern that he was not fully confident of the bird's identification. One of the two observers reported obtaining video footage, but the video was never submitted; the committee would reevaluate the record upon receipt of video.