Hooded Oriole, Icterus cucullatus
Number of accepted Hooded Oriole records for Louisiana = 4 as of July 2015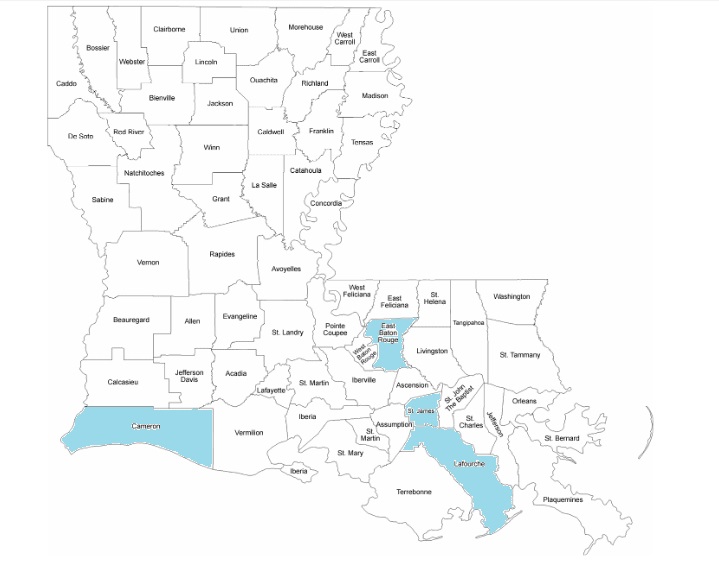 One adult male (87-24) on 20 Apr. 1987, Cameron: HMBS; Diane E. Loria (netted, ph.), HK, WY, JA (Imhof 1987, p. 447, Cardiff et al 1991). This is the first record for Louisiana.
One adult male (1994-129: formerly 93-61) from 21 Jan.-26 Feb. 1994, East Baton Rouge: Baton Rouge, 704 7th Street (residence of Pat McDonald); Jim Lee (ph), John P. Sevenair, Joseph P. Kleiman, Charles E. Lyon, and Paul E. Conover (ph)(FN 48(2):218). This record is the first winter record for the state.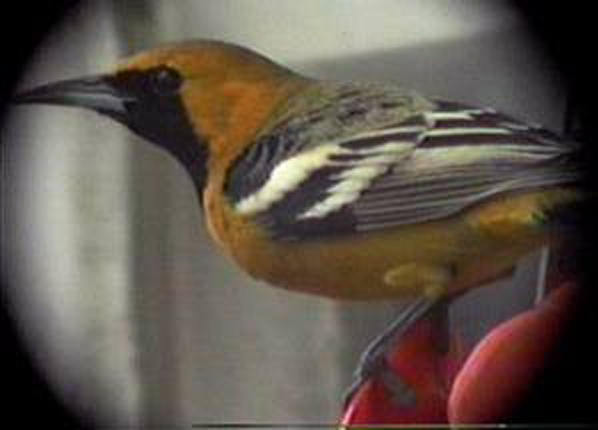 Video still by Paul Conover
One male (99-12) in first basic plumage from 6 Feb-23 Mar 1999; East Baton Rouge: Baton Rouge, 6822 S. Woodgate Ct.; Antoinette De Bosier (ph), Gayle Strickland (ph), Donna L. Dittmann and Steven W. Cardiff (ph taken 4 Mar); NAB 53(2): 176, NAB 53(3): 291, LOS News 187: 4.
One immature female (01-23) on 4-7 Feb 2001, St. James: Gramercy, 524 North Millet Street; Thomas A. Sylvest (LSUMZ 173222; Donna L. Dittmann). This is the first state specimen, and the first record of a female.
Unaccepted Records
One immature male (1989-080) on 29 April 1989, Cameron: Cameron, N. side of courthouse. This bird was located several hours after another Hooded Oriole (1989-116) was reported, and this may or may not have been the bird reported earlier that day. In considering it as a separate bird/stand-alone report, most Members were unwilling to accept because the description did not convincingly eliminate Orchard Oriole.

One adult male (2001-17) on 28 Apr 2001, Beauregard: DeRidder airport. Only one of three observers submitted a report for this observation. Although the description was suggestive of this species, it was considered too superficial to provide adequate documentation to support identification of Hooded Oriole and exclude other similar species (e.g., Altamira or Streakbacked orioles). In particular, the observer did not describe overall size, bill shape, facial pattern, back color, or wing bar pattern.

One immature male (90-35) on 28 Apr. 1990, Cameron: East Jetty Woods. The description and accompanying sketch were suggestive of this species, but there were a number of inconsistencies in the description, e. g., the shape of the black throat pattern, the pattern and coloration of the back and rump, and the color of the tail did not fit this species. The voice was noted as "difficult to describe"; some attempt at a rendition of the voice might have greatly strengthened this record.